I've been told I'm pretty good at giving gifts.
I'm different. I like gift-giving. Over the years, I've made people cry, scream, jump up and down, shout expletives (in a good way), and generally lose their mother f*ing minds at some of the gifts I've given.
I don't do it for the reactions (though it's definitely a nice bonus!). Basically, I just love making people's days. Being a good — and thoughtful — gift-giver is totally my JAM.
BUT.
I have the WORST memory, and as much as I love my friends and family, it's hard to remember all the little details about each of the special people in my life. Especially exactly at the moment when I need to remember all of them.
Let me tell you — the combination of wanting to give someone a good & thoughtful gift, but having the short-term memory of a housefly, can lead to some not-so-fun mild anxiety attacks in the middle of Target (or staring, paralyzed, at the vast Amazon homepage) with a week before a holiday and no idea where to start.
#realtalk
So, what's a forgetful gal to do?
In my experience, the key to giving an epically good gift is remembering (and then connecting with) the unique little details about a person that makes them and your relationship with them special.
In order to have these important details within reach whenever I need them, I rely heavily on these two simple habits to keep my gift-giving game on point.
1. I keep a mega list of information on the special people in my life.
If anyone ever found this list without knowing what it was, it would look super creepy.
This list has all the necessary information for the key players in my life, with general info like:
Birthday
Anniversary
Favorite color
Likes & dislikes
I also like to include silly, unique categories that help me find great gifts for my particular group of friends and family members:
Favorite Disney Princess
Hogwarts House
Pet's names & birthdays
Yes, we're all adults, by the way.
2. Develop a habit of updating this mega list constantly.
When someone mentions something they want that's worth remembering, I'll jot it down on my list.
Over the years, it's become second nature to me, and this habit has helped countless times to make last-minute gifting decisions on the fly.
Anything to make Christmas and birthdays easier, right? 
This mega list also comes in handy when you don't expect to send someone a gift — congratulatory occasions, sympathy gifts, just because, and for whatever else life throws our way.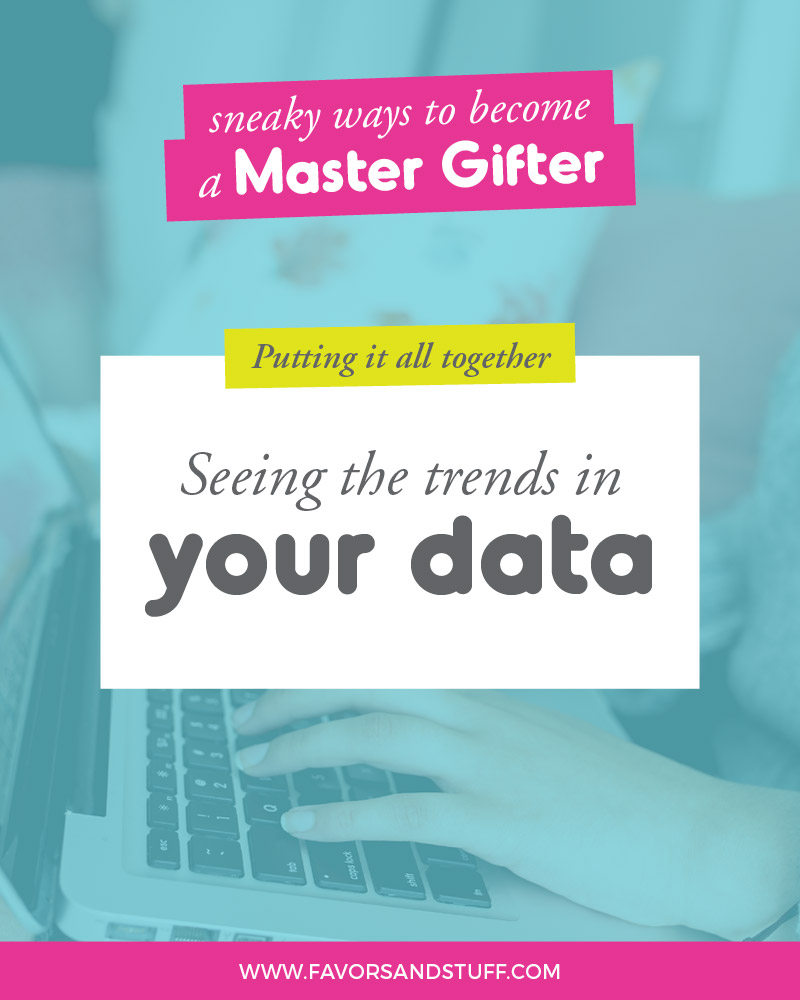 #NERDALERT
I'm a creative person, but I also love organization and data. (and office supplies. and planners. and lists!)
I like to think of this mega list as handy data of my friends' personalities.
Once you start using your own creepy mega list, you'll start to see trends in the things they like. This can help you look at a potential gift through their perspective and better determine if it would fit in with their lifestyle or not.
Ready to master your gift-giving?
Download our FREE gift giving PDF to get started with a creepy mega list of your own!
Use it to jumpstart your holiday gift giving strategy
– start your own mega list
– print out several copies and have your friends and family members fill them out!
– email course
Your turn!
What kind of unique categories will you include on your mega list? Tell me in the comments!