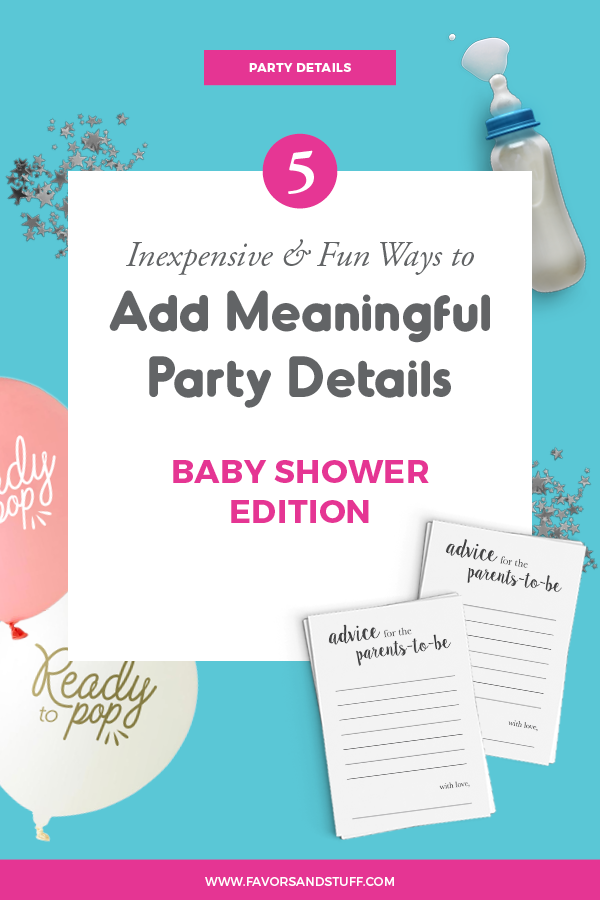 We're big fans of the details over here at Favors & Stuff HQ, especially when it comes to the perfect baby shower. That's because the right, thoughtful details can make a party (and the guest of honor!) feel extra special.
The best thing? With the power of the almighty Internet, getting those special details just right is easier than ever.
We've rounded up a few of our favorite Baby Shower party extras to help make your celebration even happier.
This post contains affiliate links. We only recommend products and services we truly love and think you'll enjoy, too. If you click through and purchase one of the things we've recommended below, we'll make a small commission off of your total purchase. This comes at no cost to you, and your experience stays exactly the same. If you'd like more information, you can read more about our affiliate policy here. 
Custom Napkins
Custom printed napkins can make an event feel instantly put together and 3x fancier. Plus, there are tons of online vendors offering this service at very affordable prices.
I recently ordered the above design for a friend's baby shower from For Your Party (100 napkins for $47), and was impressed with the quality. I'm a total sucker for anything with foil printing!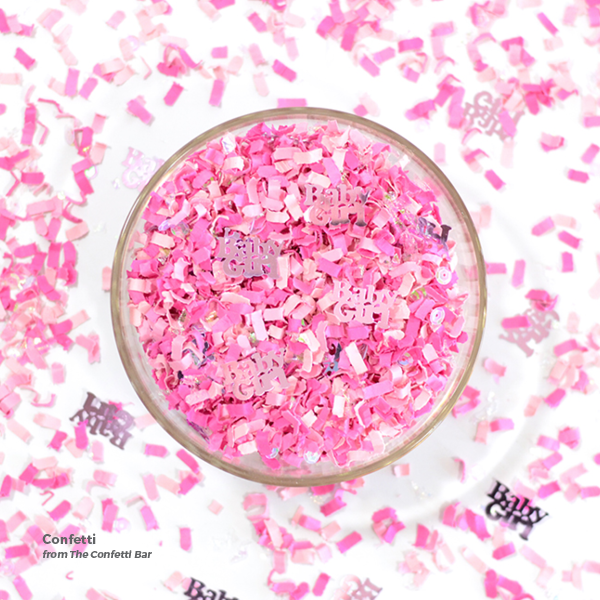 Confetti
Did you know that you can get CUSTOM. CONFETTI?! Because I did not know this until recently, and my life hasn't been the same since. The Confetti Bar is one of my new favorite finds, and I want to have custom confetti at every party I throw for the rest of my life.
Starting at $10 for 1 cup: Shop Baby Girl Confetti / Baby Boy Confetti / Go Custom!
Printable Games & Advice Cards
Give your guests a little extra fun with a baby shower activity game, or have everyone fill out an advice card for the parents to be — perfect to read at the shower or to keep as mementos!
Just download, print, cut, and party! Tons of games and designs to choose from, starting at $5: Shop Baby Shower Printables or Contact me for customer order requests
Balloons
Whether you go cheap, custom, or somewhere in-between, balloons have a special super power to turn anything into an occasion.
Balloons on the cheap — Did you know that you can get totally decent balloons at your local Dollar Store? They can usually inflate them for you, too. Some inevitably end up popping or loosing helium before the others, but it's a great option if you're on a budget or to add some filler balloons.
Custom balloons — I've already mentioned For Your Party once in this post, but they're such an easy resource! Shop designer balloons, 12 for $24
Novelty balloons — I love Studio DIY's collection of Novelty Balloons — seriously fun balloons for $3-$13 (plus shipping).
Custom Drinkware
Fact: everyone loves to see their name on a cup. It makes people feel really important, and they're so easy to do!
25 for $48 at Discount Mugs, though there are tons of online retailers (and Etsy sellers!) who offer these types of products.
What're your favorite ways to add special touches to a party? Share in the comments below — I'd love to hear!